Welcome

Guest
Your Shopping Cart is empty.
iWetter
Code:

P005
Price

$ 8
Bulk Prices:
$8
each when buying 20
Stock:

N/A
iWetter - Soil Wetter designed for iTiLL.
iWetter is a custom formulated soil wetter designed speciificlly for iTiLL. iWetter's unique formulation and lateral dispersion characteristics allows moisture to be harvested from rainfall events penetrating in via the standing stubble as well as moisture allready present in the soil profile. iWetter attracts any available moisture, storing it in the Moisture Zone ready for the seeding opperation.
The moisture zone is typically 50 mm wide and 150 mm deep depending on soil type and the exsisting moisture available in the soil profile prior to seeding. In order for the Moisture Zone to form, iWetter needs to be applied the previous year at seeding time. Caution should be taken on heavy soil types as they do not respond as well as sands and gravels. Conducting a test strip on different soil types prior to seeding is recomended.
To take advantage of the Moisture Zone, the iTiLL system then steers the seeder bar and the Seeker side banding boots into position, precisily placing the seed into the Moisture Zone created by the iWetter. The result, faster germination on non wetting soil types and better timeliness of the seeding opperation.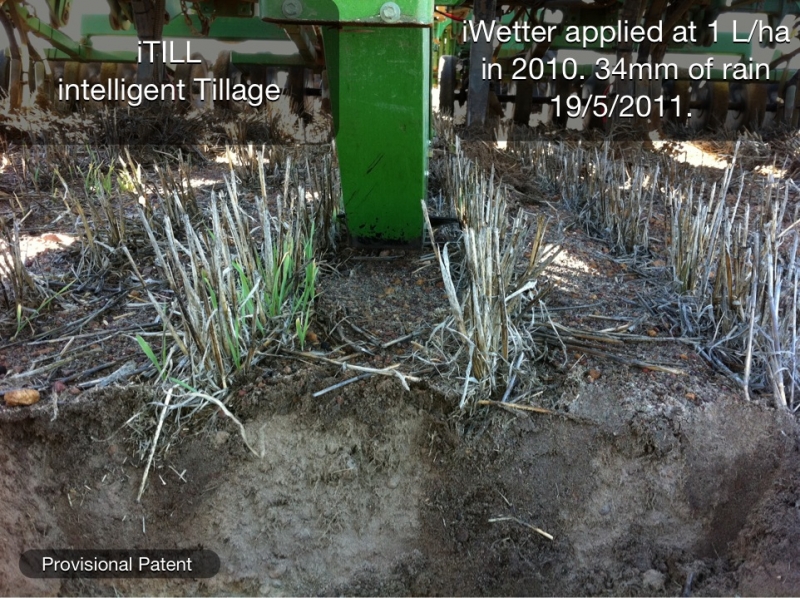 Rates: Recomended minimum rate of iWetter is 1 L/ha in 50 L/ha of water. Higher rates may be benifical in some soil types. For best results, conduct a test strip on different soil types prior to seeding.